Welcome to Cumberland Valley Veterinary Clinic!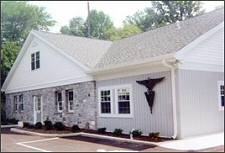 Welcome to Cumberland Valley Veterinary Clinic, your local veterinarians in Hagerstown, Maryland.
We're pleased to provide a wide variety of veterinary services for animals in the tri-state area.
Our facility is equipped with an in house laboratory, a surgical suite, digital radiography, ultrasonography, and five fully equipped examination rooms. This helps our doctors diagnose and treat most problems as quick as possible. We also maintain excellent relationships with nearby specialists should your pet need referral for specialized care.
Just one of the things that makes Cumberland Valley Veterinary Clinic so unique is our staff.  Together, the doctors, technicians, nurses, receptionists and boarding staff have been working together to ensure your furry friend is taken care of in the best way possible. We know how much of an important roll animals play in a family and are dedicated to the happiness and well being of your pet. With our growing community we will continue to put your pet's needs first. We look forward to creating a custom plan in ensuring a happy and healthy life for your companion.
The veterinary clinic is open Monday through Friday from 7 AM – 5 PM and from 7:30 AM – 1 PM on Saturday.  If you have an after-hours emergency, please call Mountain View Animal Emergency Hospital in Maugansville (301-733-7339) or CARE in Frederick (301-662-2273).
Find out more about our team by visiting our Team page.